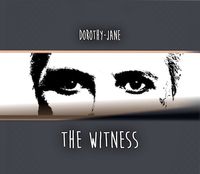 DOROTHY-JANE – The Witness 
As a mix of blues, soul and jazz album goes with a singer who's got a voice you'll never forget, and which sounds as classic as any great 20th century female soul-blues singer you could name, this is not only essential listening, but it's faultless. From fans of Cleo Laine through Nina Simone to Tom Waits, this is the album you should treasure in those nights by the fireside together or reflective on your own, or with friends around the smouldering embers of the campfire. Quite brilliant!
One of the good things about a truly distinctive singer and songwriter, is the way, on an album, that, within the first minute of the first track, you know exactly what you're in for and, even more importantly, are immediately drawn to its spells. This is the case with this new album from Australia's Dorothy-Jane.
Right from the start of "Will I Ever Love Again?", there's this wondrously smoky female vocal, that just takes you right back to the Classic blues/jazz singers on the 20th century. It's got feeling, emotion and passion, allied to a sense of floating on a cloud at the same time. As the track builds, so you fly wistfully on a bed of rolling piano chords, soaring sax and a gentle rhythm section, before that voice returns, only this time really beginning to ascend as she injects the song with adrenaline to add to the bar-room atmospherics.

"Why My Husband Went Away" really brings a lyrical smile to your face, and reminds me very much of a Tom Waits styled approach with that slowly drawling vocal, that would not have been out of place on the legendary "One From The Heart" film soundtrack. Once again, it's full of passion, runs the gamut of emotion, rolls along like a river on a sunny day, even comes with a suitably lazy but cutting electric guitar break, the gently atmospheric harmonica returns, and the song continues as you laze on your sunny afternoon in the heat of the New Orleans day.

The title track, "The Witness", shimmers into existence courtesy of a slowly twanging electric guitar as the bottom range of Dorothy's vocal comes into play, pouring our her feelings with a glorious mix of emotion and menace, so much so that you can feel her pain as she runs the length of the smoky blues-laced vocal spectrum, the song superbly illustrating her observations, as the harmonica wails in slow motion over that shimmering guitar backdrop that is the heart on which the song beats slowly away.
"Daddy's Little Girl" starts with a wonderful violin lead and you think you're going to head off into country mode, but instead it turns into this easy feeling ballad, as a gentle rhythm meanders underneath with strummed guitar. Dorothy's vocal has a feeling of deep wistfulness to it, at the same time as giving us a sense of nostalgia, her delivery almost self harmonizing on the choruses, and gorgeously understated on the verses, with that violin work superbly counterpointing the blues feelings of the vocal with an almost country styling as the two go absolutely hand in hand into a mesmerising sunset.

"Lay My Troubles Down", returns to the bar room as the smoking vocal and sky high harmonica allied to a downright dirty guitar break, provide a sultry slice of electric blues that would be the sort of thing you'd hear in any wild west saloon at the end of a heavy duty drinking day, as she really lays down the vocal with a style and determination that says "don't you dare mess with me, boy" and a smile on its face at the same time, the six shooter firmly at the ready just in case. A stunner of a song.
"Monsters", at over 6 minutes long, reminds me a bit of what my radio partner Electra was doing on her two solo EP's, as it explores a wide territory of vocal emotions and alleyways, building its instrumentation with harmonica, banjo, guitar, gently solid drums and sax, but in an almost alien musical setting, as a curiously addictive brew of jazzy, bluesy exploration unfolds. Above all of this, the vocal injects such feeling with a taut emotion that you feel might snap at any given minute, the suppressed rage, almost biting you at every opportunity, but still enshrined in its uniquely bluesy world of pain.

"Girl Song" is gently gospelly with piano and organ, while "The Wonder Of You" is the sound of Roy Rogers in Ronnie Scotts club as country meets blues at home on the range next to the saloon, a higher register degree of sultry vocal riding out into the sunrise.
"Speak Out" veritably bounces along for the album so far, as the most commercial sounding song is delivered with an almost soul-pop intensity, the lyrics most engaging, a female backing singer adding to the riches, while bursts of guitar and that wailing harmonica capture the spirit, as the song steams down the railway line with all wheels turning, the vocal showing a much more out-in-the-open flavour to it, blues, soul and pop merging to perfection.

"Grief" does what it says on the tin, as a song is sung that extols its subject matter but with a feeling that is quite awesome, the slowly ascending Nina Simone-esque sultry smoky voice, again returning to the sense of despair but somehow filled with a spirit that makes you want to conquer mountains, the instrumentation becoming more like a choppy sea as the vocal rises above it, ranging from the heartfelt darkness to belting it out with abandon as the waves turn into a hurricane and the guitar plus harmonica unleash a veritable storm of a break that truly takes your breath away on the most ferocious track on the album so far, vocally and instrumentally, but brilliantly written, sung, played and arranged – a gem of a song.

By contrast, "I'm OK" returns to the rolling piano and the smoky soul of a vocal as the gently rhythmic swing of the backing adds electric guitar as a textural necessity and it all glides along effortlessly on its wave of optimistic emotion, the addition of an organ break almost lending an air of early seventies progressive to it, yet another part of her multi-faceted songwriting arsenal.

"On My Own" illustrates the reflection that she puts into her lyrics to a tee, with a song into which you are inexorably drawn, as the nostalgic quality returns, set to a beautifully and equally reflective instrumental backing, while at the same time having a broad grin across its remembering features.
The album ends with "Rest" that finally puts her vocals to the fore against a sparse but still mesmerising backing from guitar, as the softness of the harmonica and her magical vocal ease you into a short but suitably emotional goodbye.