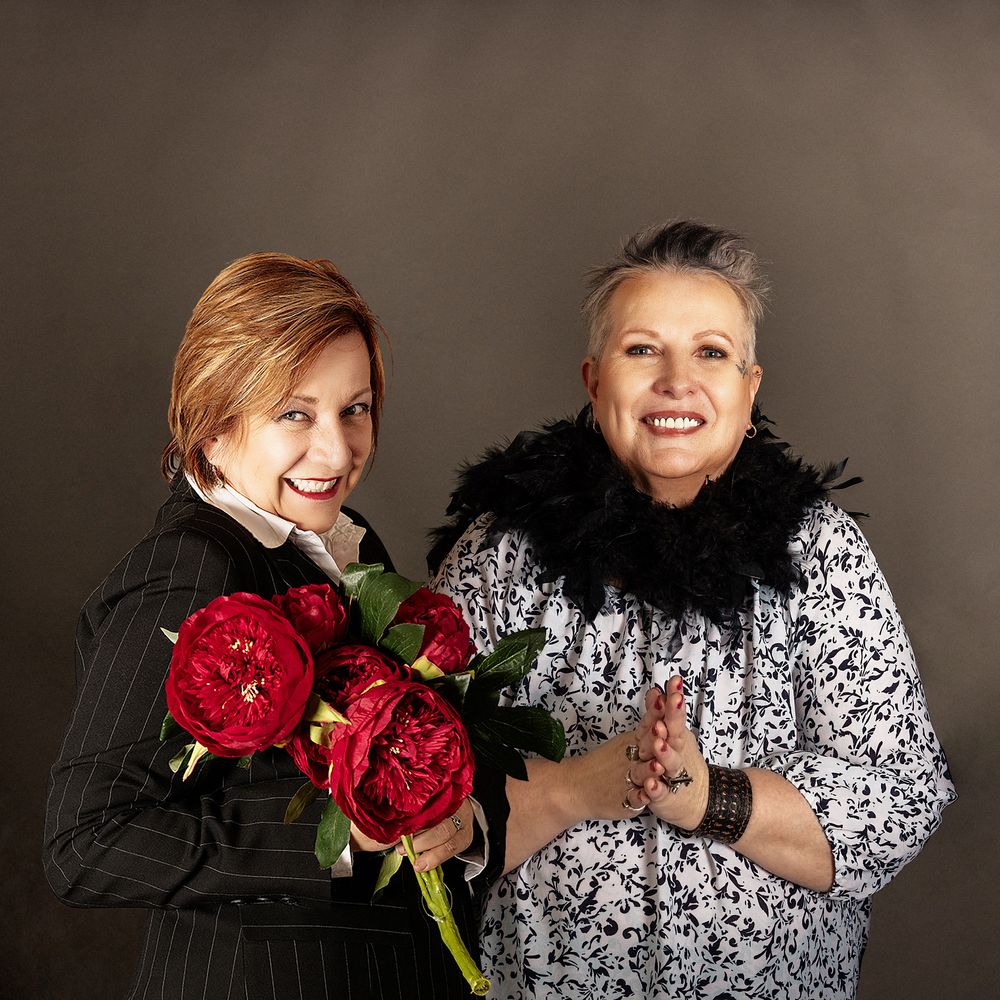 Divine Devilles - Ali Penney and Dorothy-Jane
Powerhouse Bluesy duo/ trio/band
Singer/songwriters/musicians, Ali Penney and Dorothy-Jane, come together as Divine Devilles.
Two well-travelled souls, each with a swag of awards, a suitcase full of songs, their hearts on their sleeves and a love of that sweet, swinging, shuffling, grooving place where Blues and Jazz meet.
This is a powerhouse act with award-winning songs, vocals, keys and blues-harp, plus bags of cheek, charm and pizazz!
"These two gorgeous gals are hilarious! With hard luck tales enough to break your heart or knock you off your chair with laughter! Oh my gosh! From Aussie!"
- Jocelyn Aydon, Fringe West Films NZ
"She gotta lotta soul," says Andrew Junior Boy Jones. Ali has opened for an impressive list of legends including Johnnie Johnson, Chris Cain, Lucinda Williams, Cephas and Wiggins, The Tailgaitors and Chris Wilson.  
Ali has been performing, recording, and composing music in bands for over 15 years. These bands include The Hippos, Midnight Ramblers, Supro and Wayne Jury's Dry Bones as well as international acts such as Andrew Junior Boy Jones (Freddy King's guitarist), Kid Bangham (Fabulous Thunderbirds), Lloyd Jones and Todd Sharpville. She has recorded with Fiona Boyes, the Chris Mawer Band and those west coast hipsters, The Vibrolators.  
Ali scooped the 2013 Australian Blues Music 'Chain' Awards winning: Female Artist of the Year, and her band: Best Band, Best Album and Best Producer.  
Ali Penney & the Money Makers released its first album, "Temptation" in 2012 and an EP "And On It Goes" in June 2013. The band won Sydney Performer of the Year in 2009 and represented Sydney in The International Blues Challenge in Memphis 2010. The band also received The Australian Blues Music "Chain" Award for Best Band 2010.  
Ali plays her brand of Blues, Jazz, Soul and Boogie at festivals across Australia. She loves West Coast Jump, Swing and New Orleans music. In 2011, Ali was awarded Best Female Artist in The Australian Blues Music "Chain" Awards. She has a new album "Wait A Minute" which was in the top ten in the Australian Blues Music Charts for 7 months. In 2012/2013 catch Ali playing festivals in Broadbeach QLD, Brisbane QLD, Wangaratta VIC and Bridgetown WA. And she is currently touring with The Cyril B Bunter Band.